Oil coolant is a mineral-based oil designed for grinding or cutting steel, carbide, quartz, and crystal. Oil coolant is ideal where a high lubricity, low viscosity cutting or grinding oil is required. Oil coolant also finds use in honing and finishing of surgical knives and other products that require a very fine finish. The high flash point and non-toxic, biodegradable components of oil coolant make it safe to use.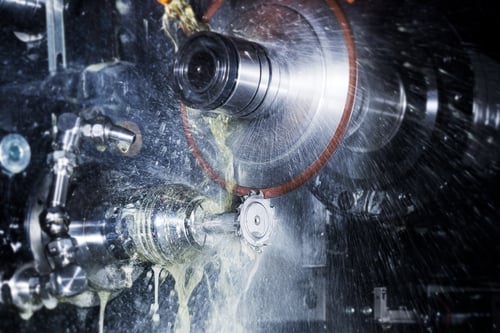 Benefits of Oil Coolant
Oil coolant is used by many leading carbide and HSS tool manufacturers. It can be used on most types of saws, tools, and rotary grinders. Oil coolant grinding coolant will increase both grinding wheel and grinding machine life. In addition, the resulting surface finish will be better than grinding with water-based coolants. The major advantages of Oil coolant are reduced grinding wheel costs, reduced grinder maintenance costs, and increased customer satisfaction with the finished product.
Oil coolant also provides…
• Increased machine life, less grinder maintenance compared to water-based coolant
• Improved workpiece surface finish
• Increased diamond/CBN wheel life
• Excellent corrosion/rust protection
• Excellent lubricity
• Can filter below 1 micron without removing additives
• No foaming or suds
• No cobalt leaching when grinding carbide
• No problems with bacterial growth
• Very mild odor, translucent light brown color
Oil coolant has a long service life if filtered properly. It has a minimum flash point of 320 °F and a specific gravity of 0.90. An air cleaning system (e.g., SMOG-HOG) for collecting coolant mist is recommended for grinders without a full enclosure. All CNC automatic grinders running oil-based coolants must have a spark arrester installed (check with the grinder manufacturer for more details).
If you need more answers, make sure to let us know! Our engineers are ready to help!